February minutes, March agenda posted

See minutes of the February Felsenthal Town council meeting where state aid for streets and he annual Consumer Confidence Report were discussed. Click here. Find out what will be discussed at the March 11, 2014 town council meeting. Click here for the agenda. Permanent links to all minutes and agendas are available from the main menu above.
January minutes, February agenda, and water fund budget posted
You can see the January 14 town council meeting minutes, the February 11 council meeting agenda, and the Felsenthal water budget — and proposed expenditures without leaving your seat: Click appropriately below:
You may also be find these items in the main menu above.
January 2014 Town Council agenda posted
The agenda f0r the upcoming Felsenthal Town Council meeting on January 14, 2014 is now available. Click here to see the agenda.
October, November, and December Minutes posted
We have posted the October, November, and December Felsenthal Town Council minutes. Take a gander and find out what's going on in Felsenthal. Merry Christmas and a very happy new year to all!
September town council minutes posted (both of 'em)
The regular September 10, 2013 Felsenthal Town Council meeting minutes are now available. Business included:
The ARNC loan
The sewer system and fund transfer for lift station project
Water system repairs
The 4th Annual FNWR Festival
Transfer of funds from CD to Money Market Accounts
On September 19, 2013 there was a special called meeting of the Felsenthal Town Council. Click here for those minutes. Business included:
Sewer pump repairs
Sewer pump repairs funding
August town council minutes posted
The August Felsenthal Town Council meeting was on the 13th. Discussions included:
Lift station repairs
Street audit results
Water system survey
Water tank inspection
A new canoe trail
Click here to see it all.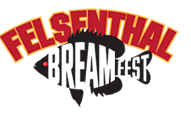 2013 Bream Fest a big success
The 2013 Bream Fest drew a large and appreciative crowd. Congratulations and thanks to the organizers and volunteers. Click here for links to picture galleries.
---

Worth Camp maps still available
The fine Worth Camp laminated maps of the Felsenthal Wildlife Refuge are now available at the Felsenthal Town Hall for $25.oo.
---
---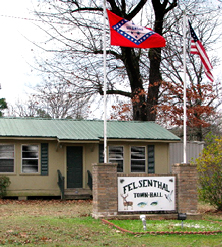 The Felsental Town Hall.
We are Felsenthal, Arkansas, next door to the Felsenthal National Wildlife Refuge — covering 65,000 acres in Ashley, Bradley and Union Counties in south Arkansas. Grand Marais Lake is in our back yard.
Felsenthal NWR is the world's largest green-tree reservoir. The Refuge offers hiking trails, fishing, wildlife observation photography, hunting, including youth hunts, environmental education and interpretation, and camping. Click here for Felsenthal NWR fact sheet.
For our visitors and friends: Find out about how much fun you can have here, about our history, our outdoor sports and our events. We are a friendly Southern town and love company. Y'all come.
For home folks: Find information about your home town, including:
Town council meeting schedule is now on the community calendar
Town council meeting agendas (see main menu above under Home)
Town council minutes are now posted (see main menu above under Home)
The Felsenthal annual budget
Monthly financial reports
Proposed ordinances
Community calendar
Wildlife and outdoor activities
Announcements
Click here to email us. Call us at 870.943.2454